Scilly
Kinsale, IE /
Renovation & Extension
/ Built
92m2 & 120m
2013 - 2018
L. Jones
J. Turner, T. Connors, R. Stokes
photography © Shane Lynam
Our brief was to increase the size of a modest council-built property at Ardbrack, Kinsale Co. Cork threefold. The site is spectacular. Long and narrow, it steps down in terraces from the rear of the house to Kinsale Bay creating a series of outdoor rooms. The existing house is semidetached and with its partner reads as a vertical wall separating public road from garden and view.
Three extensions were installed. The house volume was extended to the side emphasising the definite built line at the top of the site. The ground floor garden terrace was dug out and a volume installed within it, opening onto a lower terrace. A square glass pavilion was installed on the ground floor terrace to the rear of the house volume, linking the upper house volume to the lower garden extension.
Each of the extensions has a different material and spatial identity.
The side extension blends into the existing house and is realised in a traditional, inward looking manner. The lower extension is constructed from metre thick concrete and stone walls and reads externally as part of the landscape. The pavilion is constructed from glass and exposed steel and sits lightly between levels and functions opening towards the garden and expansive views.
3
6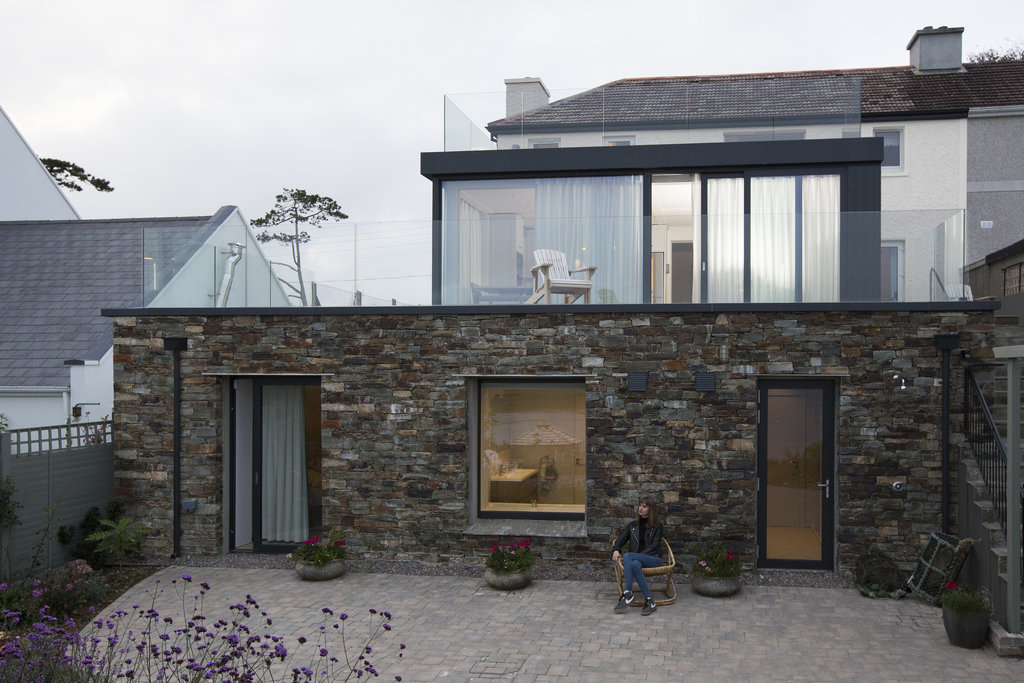 4
6
5

8